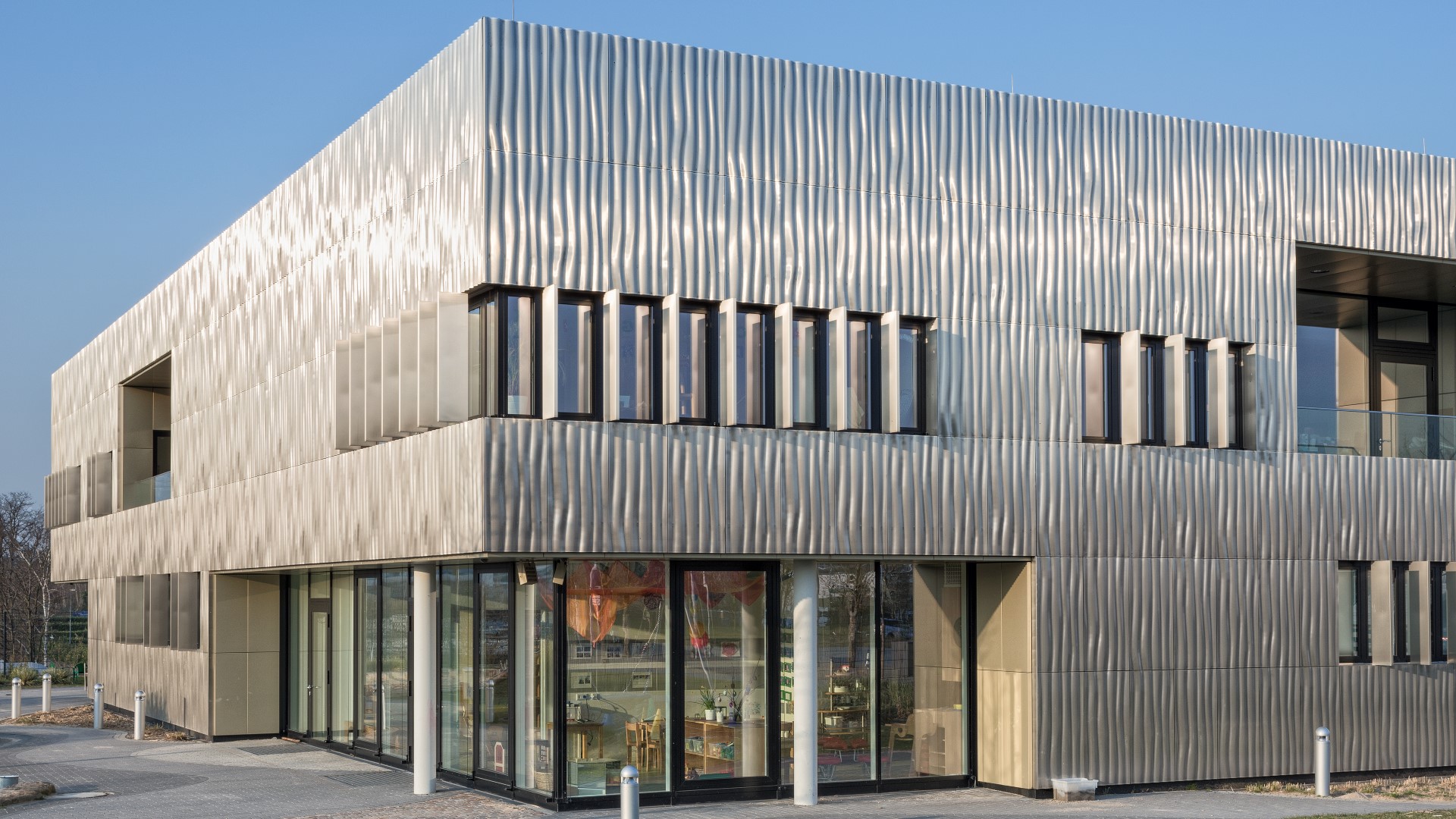 Award-winning metal facade – Thyssen Krupp Day Nursery
The Steel Innovation Prizes 2015 were awarded within the scope of the "Berliner Stahldialog" (Berlin Steel Dialogue). The facade of the "Miniapolis" day nursery in the ThyssenKrupp district of Essen received first prize in the category of "Steel in the Building and Construction Industry".
The joint venture of JSWD Architects, Cologne, and Chaix & Morel et Associés, Paris developed a new three-dimensional plate with us for the new construction of a day nursery in Essen – "Water Wave TKQ" – three-dimensionally formed facade elements made of perforated and brushed K-240 stainless steel plates.
The 1.0 mm thick, brushed stainless steel panels, with dimensions of 650 mm x 1300 mm respectively, are so arranged as to allow a smooth transition from the vertical to the horizontal contact surface areas.
The surface of the facade is designed with a tooling system of four different wave geometries. In order to achieve an even flow of the undulating landscape over the entire surface, the wave design was developed so that the 4-part elements were mounted next to and under each other in an offset manner.
The jury of the Steel Innovation Prize 2015 explained their selection for the 1st prize with the following words:
"Instead of using traditional wall-building materials, the joint venture JSWD Architects and Chaix & Morel et Associés developed three-dimensionally formed facade elements made from perforated stainless steel plates for the new construction of a day nursery in Essen, which cover the building with an undulating design due to the smooth transition from one contact surface area to the next. A hydromechanical forming process was chosen to manufacture the elements, which allows one of the most cost-effective and materials-saving forms of production. The very aesthetic and, due to the use of a forming process previously not often used in the building industry, extremely efficient use of stable, malleable construction elements opens up new market opportunities in modern facade architecture."
Photo: Thomas Lewandovski, Halle / Michael Wolff, Frankfurt/Main